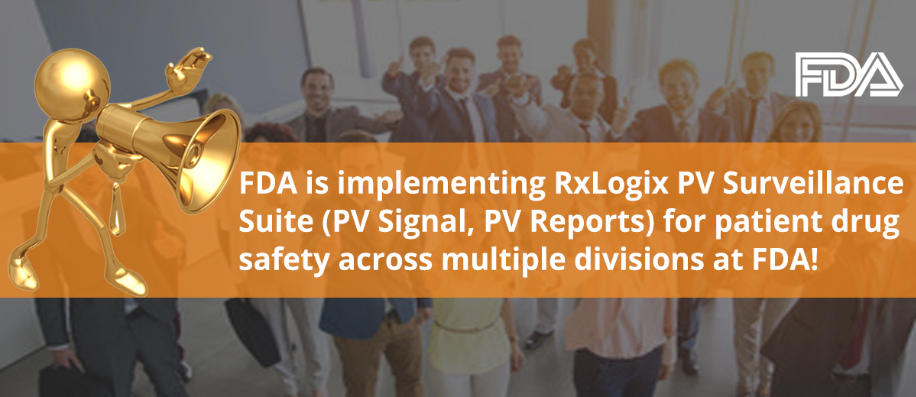 The FDA Selects RxLogix Corporation Products to Support Safety Surveillance
19 Nov 2018
Princeton, New Jersey, November 19, 2018 – RxLogix Corporation, a global leading provider of Safety and Pharmacovigilance (PV) Software and Services, today announced the signing of an agreement with Booz Allen Hamilton to support the implementation of PV Signal and PV Reports at the US Food and Drug Administration (FDA). The FDA is responsible for protecting the public health by ensuring the safety, efficacy, and security of human and veterinary drugs, biological products, and medical devices. In order to provide state-of-the-art data analytics and signal management, the Agency will implement the RxLogix PV Signal and PV Reports as part of a larger effort to modernize and enhance the FDA Adverse Event Reporting System (FAERS).
After a thorough evaluation of proposed commercially available data analytics and signaling software for safety review, the FDA selected RxLogix's PV Signal and PV Reports as components of an integrated drug safety platform to support the Agency's pre- and post-market surveillance operations. These products will enable the FDA to conduct data analysis, signal detection, evaluation and signal management on safety data, by replacing their legacy FAERS data analytics system with commercial off-the-shelf (COTS) products.
RxLogix PV Signal is the industry's most complete signal detection and management solution that provides a dynamic data mining and data analytics environment for detecting signals, uncovering patterns, and recognizing emerging trends in adverse event report data. RxLogix PV Reports is the most advanced, user-friendly and self-service product for Regulatory Reports, Ad-hoc Reports, with out-of-the-box Spotfire Integration and Visualizations.
"This selection by the FDA marks a significant win for us along with several major commercial organizations in the last 24-months, further bolstering our position as the most innovative company developing the most user-friendly Pharmacovigilance systems," said Raj More, CEO and Chief Architect at RxLogix. "This has been a huge priority for us and it is extremely rewarding to see our hard work paying off. RxLogix will continue to put significant development efforts into our product line to continue to develop and innovate to revolutionize the PV Systems space."
Supporting Information
PV Signal – https://www.rxlogix.com/pv-surveillance/pv-signal/
PV Reports – https://www.rxlogix.com/pv-surveillance/pv-reports/
About RxLogix Corporation
RxLogix is a global pharmacovigilance solutions company specializing in innovative software and expert consulting services. Our talented team of business and technology innovators works with Pharmacovigilance and Risk Management Professionals to help increase the compliance, productivity and quality for the entire Drug Safety value chain. We are business transformers, digital thinkers, tech Innovators, technology revolutionist, business mavericks, driven and open-minded individuals. At RxLogix, our goal is to make the most innovative industry standard software for the life sciences domain.
Trademarks
RxLogix, PV Signal, and PV Reports are registered trademarks of RxLogix Corporation. Other names may be trademarks of their respective owners.
Contact Info
Jeff Tucker
RxLogix Corporation
500 College Rd East, Suite 410
Princeton, NJ 08540, USA
+1.610-910-1072