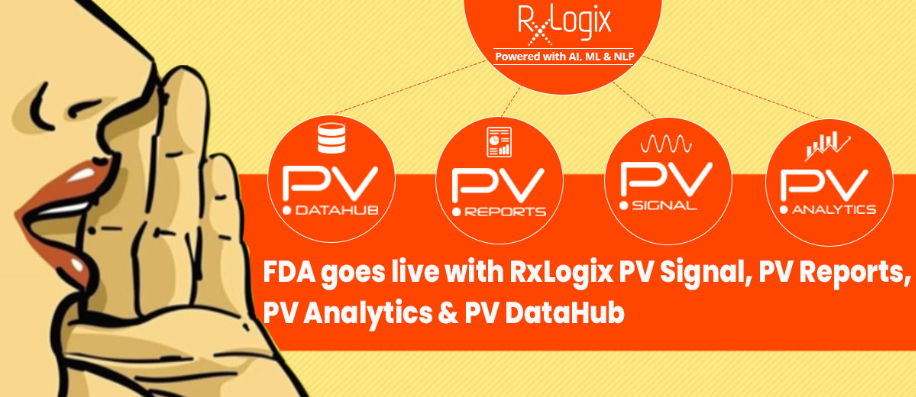 FDA is live with RxLogix PV Surveillance Platform (PV Reports, PV Signal, PV Analytics & PV Datahub)
10 Nov 2021
FDA is live with the FAERS II program. The Center for Drug Evaluation and Research (CDER) & Center for Biologics Evaluation and Research (CBER) divisions at the U.S. Food and Drug Administration (FDA) are responsible for protecting the public health by ensuring the safety, efficacy, and security of human drugs and biological products.
To perform state-of-the-art data analytics and signal management, the CDER and CBER at the FDA have implemented the RxLogix PV Surveillance Platform (PV Reports, PV Signal, PV Analytics & PV Datahub) as part of a larger effort to modernize and enhance the FDA Adverse Event Reporting System (FAERS).
FAERS II is a holistic and integrated platform for safety surveillance, and analytics for approved drugs. The integrated pharmacovigilance platform will streamline regulatory processes and ensure data quality to facilitate full lifecycle safety surveillance and tracking.
This first release of FAERS II replaces the previous version of FAERS to support FDA's post-market stakeholder community, including the Office of Surveillance and Epidemiology Division of Pharmacovigilance, the Office of Generic Drugs Division of Clinical Safety & Surveillance, and the Center for Biologics Evaluation and Research Office of Biostatistics and Epidemiology.
RxLogix PV Signal is the industry's most complete signal detection and management platform that provides a dynamic data mining and data analytics environment for detecting signals, uncovering patterns, and recognizing emerging trends in adverse event report data. RxLogix PV Reports is the most advanced, user-friendly, and self-service tool for Regulatory Reports, Ad-hoc Reports, with out-of-the-box Spotfire Integration and Visualizations.